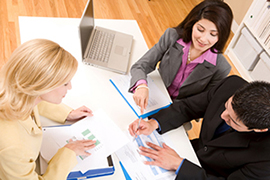 It's inevitable, the Federal Reserve is considering raising rates as early as June, so, with a little time on your side, now might be a good time to find the right mortgage or to refinance.
With jumbo loans, banks are eager to strengthen relationships and are now more open to providing larger loans amounts to clients who have assets that could be used as collateral.  For first-time buyers, a smaller down payment or no money down is now an option once again, however, that might come with a higher interest rate and mortgage insurance. Once you've decided to purchase a home, it would be wise, to first get a pre-approval before looking at homes. This will give you a good idea of what you could afford and what your mortgage payments might be. And make sure to shop around for the best rates, which could save you thousands over the life of the loan.
If proceeds from the sale of the current home is needed for the new home, a short-term or bridge loan would help with the down payment. Or a home equity loan, providing there is enough equity in the home. Also, consider negotiating in the contract staying in the house after the sale with a rent agreement that you would pay for a specific period. You could also add a contingency based on finding another home before closing escrow, however, that might limit your buyer pool by keeping some buyers away. If you're ready to refinance, pay attention to closing costs to ensure that you are able to recoup the costs within a certain timeline.
In general, banks are easing up on those with credit challenges by considering lower scores, low 600's, or no minimum credit score; of course, this may require a larger down payment and/or a smaller loan amount. Mortgage Brokers offer more options as they have access to a variety of lenders and programs. Whatever you decide, even if there's no change in interest rates, getting a loan is less daunting and shopping for one now is a great time to get a head start, before the 'official' start of the home-buying season begins.
Source: Getting The Right Mortgage (WSJ.com, Mar 13, 2015).